Author:DEEPDate:2021-6-16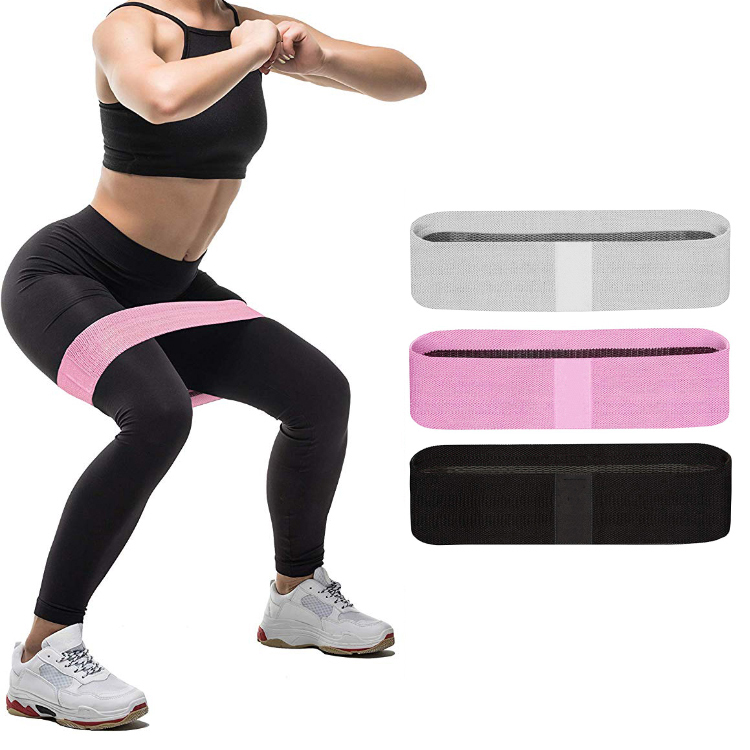 Fabric Booty Bands for Women with Widen and Thicken Fabric(3 Sets) - Non Slip Exercise Bands for Working Out, Physical Therapy, Home Fitness, Strength Resistance Bands for Legs and Butt
[Comfortable, Durable, Anti-Roll Up] workout bands are made of super-soft, and skin-friendly premium cotton polyester material, which is non-toxic, tasteless and provides better elasticity. excersize bands have rows of stitches to prevent "rolling up" problems, enhance user's safety and comfort on training.
[FUN AND HOME GYM] Using resistant bands for exercise while you watching TV, talking with your friends, or playing games, make fitness convenient and fun. leg bands for working out can also help you with general training such as yoga, Pilates, home gym, injury rehabilitation, and physical therapy.
[EFFECTIVE & PRACTICAL] is inspiring to provide "More Comfortable Resistance Bands for Women". Each resistance band set contains 3 resistance levels for fitness bands: 25lbs, 35lbs,50lbs, 1 carry bag, 1 workout guide for exercise band, suitable for training your chest, abdominal muscles, biceps, triceps, shoulders, quadriceps, gluteus, hips, knees and legs. Stretch bands can also use in conjunction with other workout equipment, barbells and gymnastic rings.
[Anytime, Anywhere] workout bands for women are light-weighted and easy to carry, you can use it in hotel, gym, park, beach, etc. The elastic bands for exercise can be easily folded and stored in suitcase or gym bags, ensure your convenience when traveling or going to the gym.
How to use the pull up assist bands ?
]
↓Next [
Colorful Latex Resistance Bands, Exercise Bands Set with Instruction Guide & Carry Bag, Strength Workout Bands for Fitness Home Gym
]